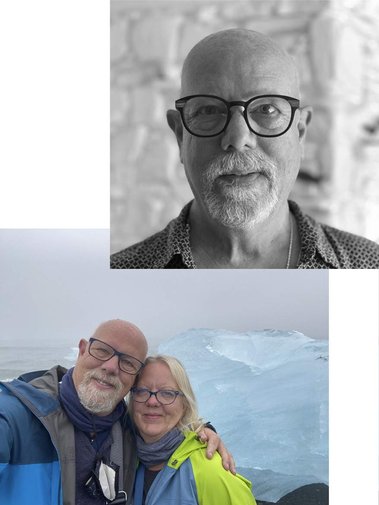 I am lucky! Lucky to be able to return to what I have always loved: traveling with my camera and finding new ways to look at the world, whether nature or man-made. I rarely put the camera down so once again I am working full time as a photographer. I love to travel with my wife Melissa and now that we are both retired from our normal jobs, our free time has opened up many opportunities to photograph the world: architecture and nature's beauty.
I currently live in Rancho Mirage, California near Palm Springs. My wife Melissa Riche and I had our book published in August 2018; "Mod Mirage- Mid Century Architecture of Rancho Mirage". I did all the contemporary photography and Melissa was the writer and researcher.
I graduated from Rochester Institute of Technology with a degree in Photography as a Fine Art, then moved to Washington DC where I began a career as a freelance photographer and part time teaching assistant at the Corcoran College of Art & Design. Soon thereafter I was invited to be Director of Photography on a stop-motion animation film. This led to a 40-year career in the film/animation and visual effects business.
I have worked as a Director of Photography, Visual Effects Supervisor and Executive Producer, working on TV commercials, feature films, dark rides and other visual effects projects. I was Executive Producer/Head of Production at Digital Domain and Ntropic in Los Angeles and Reel FX in Dallas. I also worked as a visual effects production consultant at Blur Studio for three years. Some of the projects I worked on during my career were Deadpool, Tron:Legacy, X-Men First Class, Curious Case of Benjamin Button and PeeWee's Playhouse.
In my photography and as a Director of Photography I always concentrate on composition and use the camera and light to create a new vision of the scene before me. I look for design in the normally overlooked aspects of an object or a scene, focusing on the elements that make up a vast architectural structure, a historic church, classic automobiles or the beauty of nature's designs in a landscape.
My work has been included in numerous shows and exhibitions and I recently received a Silver Medal from The Prix de la Photographie, Paris (PX3) for my photographs of the TWA Terminal at JFK Airport.
My work has also been included in numerous publications and eZines including Palm Springs Life, Atomic Ranch, Blur Magazine, Dodho, Camerapixo and Desert Modernists book where I also did the cover.
We recently returned to our Rancho Mirage, CA home, after nearly two years of living in England and traveling around Europe which included trips to Iceland, Spain, and France. I hope to continue my travels with Melissa to explore new-to-me places and discover more of what our incredible world has to offer.
Exhibitions & Awards
2023 UCR Palm Desert-Featured photographer and curator of "the Modernists"
2022 1st Place Swire Ridgeway Arts Prize for Photography
2021 PX3 Silver Award Winner for TWA Terminal Hotel Click here - Silver Award
2021 PX3 Honorable Mention for Poplars on D'arcy Dalton Way
2021 Swire Ridgeway Arts Prize for Photography Runner Up
2020 Featured Artist - Palm Springs Photographic Center - TWA Terminal Hotel featured
2020 SE Center for Photography "Light" exhibition • Click Here for Link
2019 Featured Artist "UCR Geometrics 101" Show Palm Desert, CA
2019 Metamorphosis Exhibition Palm Springs Art Museum
2019 Palm Springs Museum Artists Council Show
2018 PX3 Prix de la Photographie Paris Bronze Winner "Salton Sea" Feature • Click Here for Article
2018 Center for Fine Art Photography Juried show: B&W
2018 Photoplace Gallery, VT Juried show: B&W
2018 Amanda Smith Gallery "Director's Award" Vistas Show
2016 Palm Springs Art Museum Juried show: Best of Show
2016 PX3 Prix de la Photographie Paris: Honorable Mention • Click Here for Link
2016 Photographer's Forum Annual Show: Finalist
2016 Rebecca Fine Arts Group Show
2015 Beverly Hills Art Show: 3rd Place in Photography
2015 IPA "Lucie Awards": Honorable Mention for 4 images
2015 New York Photography Festival "Last Picture Show": Finalist
2015 Photographer's Forum Annual Show: Finalist
2015 Lightbox Photographic Gallery, Astoria, OR "Mother Earth": juried show
2015 PX3 Prix de la Photographie Paris: 5 Honorable Mentions • Click Here for Link
2015 Center for Fine Art Photography Ft Collins, CO: Juried Landscape Exhibition
Publications
"Mod Mirage: The Midcentury Architecture of Rancho Mirage" released August 2018 www.modmirage.com
2020 Camerapixo "We Inspire" Volume pgs 96-105 • Click Here for Article
2019 Camerapixo "Patagonia" • Click Here for Article
2019 Dodho eMagazine feature on "Positive and Negative: Urban Abstract" • Click Here for Article
2019 Jugular Magazine- Salton Sea Feature Article
2019 R/M Magazine feature
2019 Best of Architecture pg 49 • Click Here for Magazine
2019 Dodho eMagazine feature on Patagonia •Click Here for Article
2018 LensWork- Seeing in Sixes
2018 Dodho eMag-Feature article on "Salton Sea" series • Click Here for Article
2017 Camerapixo "We Inspire" Volume 14 • Click Here for Magazine
2017 Featured Photographer Blur Magazine #54
2017 Featured Photographer Adore Noir Magazine #36
2016 Camerapixo Cover "We Inspire" Volume 12 • Click Here for Magazine
2015 Camerapixo "Fine Art" Urban Nature issue • Click Here for Magazine
2015 Atomic Ranch Magazine: Commissioned article on Rancho Mirage Architecture
2015 "Desert Modernist": Cover photograph and contributing photographer
2014 Desert Magazine: First Place Landscape, First Runner up Architecture